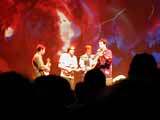 Yonder Moutain String Band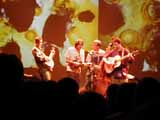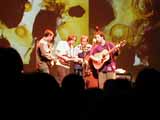 The Yonder Mountain String Band is from Nederland, Colorado. We first saw them at the Stafford Lake High Sierra Music Festival in October of 1999 and saw them again this past October at The Abbey Pub in Chicago when I was there for business. Their music is a powerful mixture of traditional bluegrass, originals, and improvisational instrumentals. Their shows are characterized by high-energy picking and foot-stomping melodies that make your feet dance of their own accord!
After the show, Randy and I stopped off at the DiBufala Pizzeria just around the corner from The Fillmore. We were starving! Food is a main concern when you start the day at 6AM with Hankido workout and end the day past midnight with a YMSB workout!